"Shliach" is the Singular of "Shluchim"
Posted October 9, 2015 by

twj
ב"ה
Shliach is the Singular of Shluchim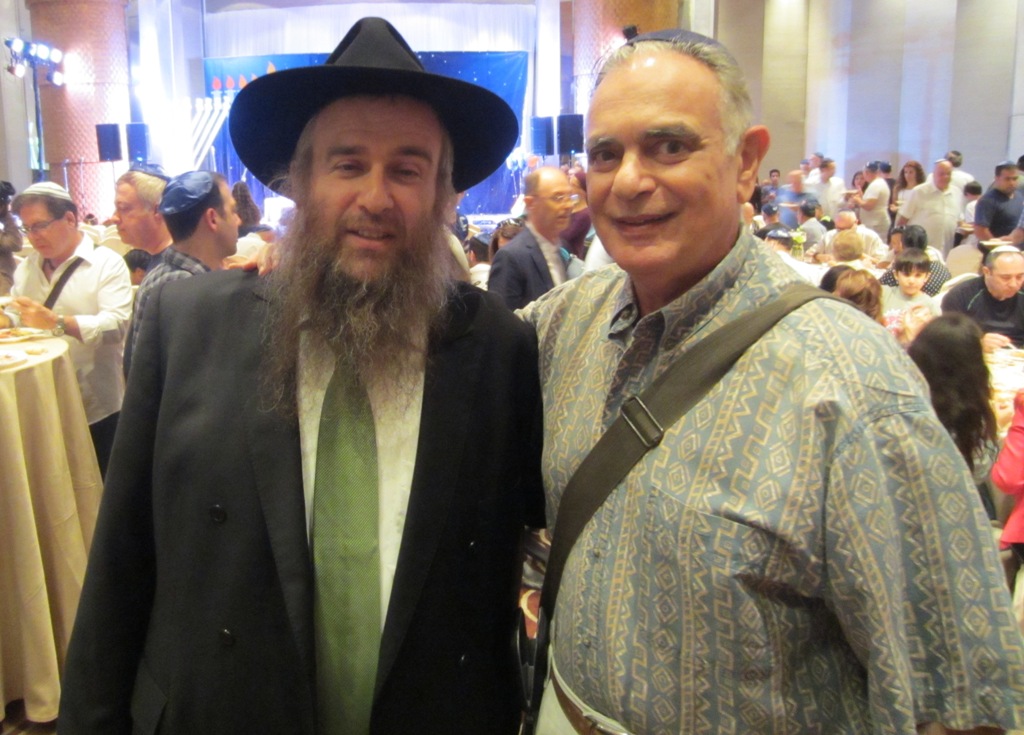 Brooklyn
New York
November 8, 2015
I met Harley Greenberg in Chengdu, by chance....
……….
Harley Greenberg and I first met in Chengdu, Sichuan Province, China in the fall of June, 2010. We have been friends ever since.
Harley was a Peace Corps Volunteer in China. He smiles, a warm and caring smile.
Harley and his wife Helen live in Chengdu (population 9.6 million). They have a darling infant daughter who they named Jeanne. From the recent photos he has sent, Harley appears to be one of the most affectionate men I have ever known. He overflows with gratitude and joy and love as he embraces his wife and child.
Harley and Helen operate the Windhorse Tour travel agency in Chengdu – the gateway city to Tibet. In 2010 they helped me with my local plans and also booked me on the Yangtze River Three Gorges Cruise.
In the spring of the 2011, I called Harley from Bangkok. During the course of our conversation I happened to ask him if he was planning to attend a Passover Seder in Chengdu. Not only did Harley have no idea if there were any other Jews in Chengdu, he was quite unaware that Passover was soon to arrive.
As we spoke, I did a search and found a small group of Jews in Chengdu who were gathering to conduct a Seder. I gave Harley the information and encouraged him to make contact.
Two weeks later I called Harley again.
"Yes," he reported. "I attended the Seder with Helen. We had a wonderful evening and I have made some new friends." He added, "Jan, will you please call my parents on Long Island and tell them the news." I answered, "No!" And I insisted, "You make the call. I am certain that your mom and dad will be much more pleased to hear the good news directly from you." He made the call.
I wish my parents were still alive so I could tell them my own good news. Since my arrival in Bangkok almost ten years ago, like Harley, I seem to be traveling down a new path. It's a modest path, to be sure, but a new one nonetheless.
Over the course of my adult life, I have always been aware of the Jewish Holidays and have celebrated with family and friends. I attended Sabbath services when I lived in Boston and Miami. I have conducted Passover Seders. I have been to Israel three times. I donate to Jewish charities. So, what's so new? "Harley" is what's new.
More to the point, Rabbi Yosef Kantor is "what's new."
Chanukah in Bangkok:
Rabbi Kantor is the Rabbi of Beth Elisheva Synagogue in Bangkok. His responsibilities also include the Chabad House, the other synagogues and Jewish communities in Thailand, and communities elsewhere in Southeast Asia and South Asia.
As a Chasid and a Rabbi in the Lubavitch tradition, Rabbi Kantor is an emissary, a Shliach. Along with his wife and children, he reaches out to the Jews in Thailand. He does not insist or criticize or proselytize. The calling of a Shliach is to suggest and to encourage Jews to come to synagogue, to celebrate the holidays and to study the Torah – the books and commentaries of stories, laws and Jewish wisdom. As the Rabbi explains, he reaches out to Jews "One Jew at a time."
As a member of Beth Elisheva Synagogue in Bangkok, I have been touched and influenced by Rabbi Kantor. In my own gentle, yet enthusiastic way, I have encouraged other Jews living in Bangkok, or visiting friends, or visiting family members to come with me to synagogue. Usually it's also "one Jew at a time."
Wherever I travel, I attempt to contact the local Lubavitch Rabbi and the Chabad House – a welcoming center for local citizens or visitors. The Rabbis are always kind and hospitable. And when I mention to them that I live in Bangkok and that I know Rabbi Kantor, the Rabbis react with delight. Rabbi Kantor is quite well-known and highly respected for his enthusiasm and learning.
At synagogue, Rabbi Kantor sometimes refers to me as "our world traveler." He knew I was traveling in the United States this month. He emailed and asked if I was in New York. When I replied yes, he sent me an invitation to a very special event.
770 Eastern Parkway, Crown Heights, Brooklyn, New York is the address of the World Headquarters of Chabad-Lubavitch. At this address, from 1950 until his passing in 1994, the revered Rabbi Menachem Mendel Schneerson, the Rebbe of righteous memory, presided over a philosophy, a movement and an organization devoted to the revival and expansion of Jewish life and learning.
Rabbi Schneerson dispatched equal partners, a Shliach and a Shlucha, a Rabbi and his wife, to communities around the world. At present there are more than 4000 Shluchim in 75 countries.
Each year, the Shluchim gather in Brooklyn for a week-long conference - the International Conference of Chabad-Lubavitch Shluchim.
This year, 5776 on the Hebrew calendar, the Rabbis or Shluchim meet in November, 2015. The Rabbis' wives, the Rebbetzins or Shluchos are scheduled to meet in February, 2016.
For several days, the Rabbis attend lectures, meetings and conferences. They gather to share inspiration, ideas and goals. The objective of the conference is to leave rejuvenated and ready to carry on their work with renewed vigor and enthusiasm. On Sunday afternoon a final Gala Banquet dinner is served.
Rabbi Kantor graciously invited me to attend the Gala Banquet at the close of the Partners Conference of Chabad Shluchim.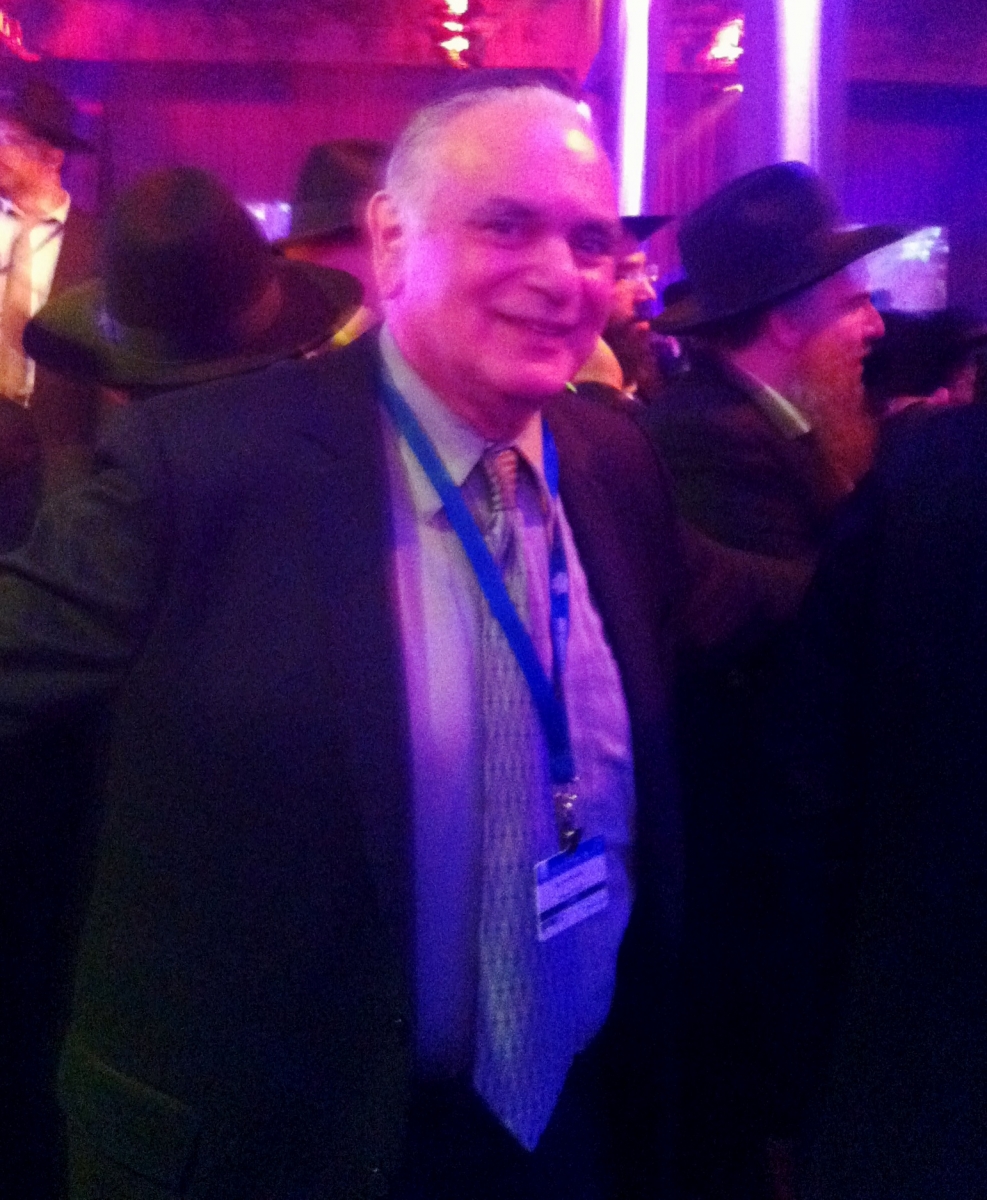 The Banquet took place on the ground floor level inside an enormous empty warehouse at the South Brooklyn Marine Terminal. Three thousand five hundred Rabbis attended. Two thousand five hundred Partners and guests attended. With six thousand attendees, this was surely the largest sit-down dinner in New York City.
Try to imagine an arena with 600 tables. In the center of the football- field space is a raised and rotating platform for the speakers. On the walls of the arena are large screens for the simultaneous televised broadcast. Everything is quite professional: lighting, audio and video systems, air conditioning. And food!
Again, try to imagine the service of a three-course meal to six thousand people. Efficiency and dispatch come to mind! And by the way, the meal was delicious! Appetizers. Fresh salads. Broiled meats and baked vegetables. An array of deserts.
May I mention only a few of the many Highlights of this remarkable event?
Young boys relate their stories of personal growth and achievement. Learned men deliver articulate and inspirational speeches. Individuals or boisterous small groups cheer as the Master of Ceremonies reads the Roll Call of Nations that enumerates the number of families in each Chabad location around the world.
The Thailand Delegation: Rabbi Yossi, Rabbi Kantor, Jan, Rabbi Ashkenzi.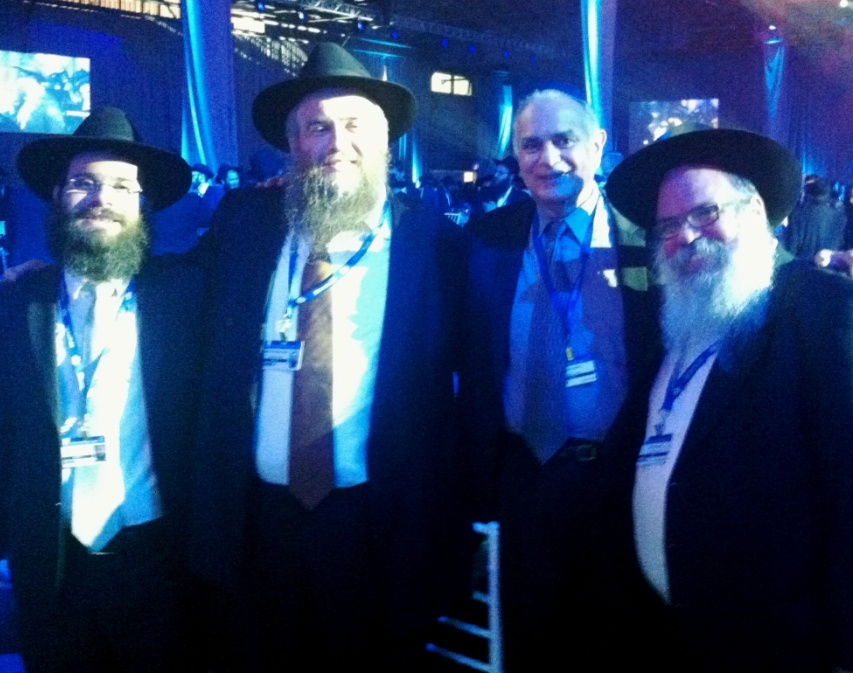 After the meal and after all the speeches, the irresistible music begins. And … the dancing!
Once again, imagine six thousand bearded men, old and young, holding hands or grasping shoulders and joyously dancing together, circling the tables, or spiraling around the arena with athleticism and vigor. "Gala" does not even begin to describe the atmosphere.
The young boy in the video below is Moshe Holtzman. He is the orphaned son of Rabbi Gavriel Holtzberg, of blessed memory, and his wife Rivka Holtzberg, of blessed memory - the Shliach and Shlucha in Mumbai, India. The Israeli-born Rabbi and his wife were among the victims of the Mumbai bombings and terrorist attacks in 2008. Moshe is being raised by his grandparents in Israel. Moshe was a speaker at the Banquet.
One final Highlight, a special and surprising moment for me:
In the area where I was seated with the Shluchim from Thailand, and close to the other tables with the Shluchim from the other countries in Asia, a short conversation took place:
Rabbi Kantor: Jan, I'd like to introduce you to Rabbi Dovi Henig. Rabbi Henig is the Shliach from Chengdu, China.
Jan: Pleased to meet you Rabbi. When did you establish the Chabad in Chengdu?
Rabbi Henig: We began the Chabad Jewish Center in 2012.
Jan: Do you know my friend Harley Greenberg? I met Harley by chance in Chengdu a few years ago.
Rabbi Henig: Of course Jan, I know Harley very well. Since the day we opened the Chabad, Harley and his wife have been active members of our community.
Jan: Rabbi, did you know that back in 2011, I encouraged Harley to seek out other Jews in Chengdu and to attend a Passover Seder?
Rabbi Henig: Yes Jan, and that is certainly good news. Thank you. You paved the way for me. It appears that you were the very first Shliach in Chengdu!
Jan: Shocked.... Speechless.... Satisfied....
I met Harley Greenberg in Chengdu, by chance?